UNION DRY PORT Co; Ltd is a leading Dry Port/Inland Container Depot (ICD) operator established in 2012 to serve the growing export-import market in the Kingdom of Cambodia by providing value-added CFS services as goods move through the supply chain. It maintains a full-fledged ICD facility complete with purpose-built warehouses, spacious storage and container yards, modern lifting equipment, 24-hour security surveillance system and an on-site customs & camcontrol complex. Manned by a team of experienced operatives and professional staff with extensive specialist knowledge and industry insights, it provides a wide range of services to a discerning field of multinational customers.
The ICD is strategically located in the plov tomnub kabsrov, phum prey tea, sangkat trapeng krasang, Khan porsenchey, Phnom Penh with easy access to Sihanoukville Port, Phnom Penh Port and Phnom Penh International Airport. Its sprawling facilities of almost 05 hectares currently provides some 3,500 sq meters of warehousing space and 27,000 sq meters of storage and container yard ( 2,500 TEU ).
The Company offers an integrated logistics solution to its customers; apart from a comprehensive array of CFS services which includes custom and port clearance of goods, it also maintains a sizable fleet of container trucks to service the pick-up and distribution needs of its customers. Hence, Providing a seamless end-to-end logistics solution that enhances operational efficiency and security.
As a pioneer player in the industry, the Company continuously updated and upgrade its facilities, services, processes, systems and people to meet the changing market needs and the demanding expectations of its customers. It had successfully worked with its multinational business partners to ensure that the ICD facility is C-TPAT compliant for more efficient and secure supply chain management.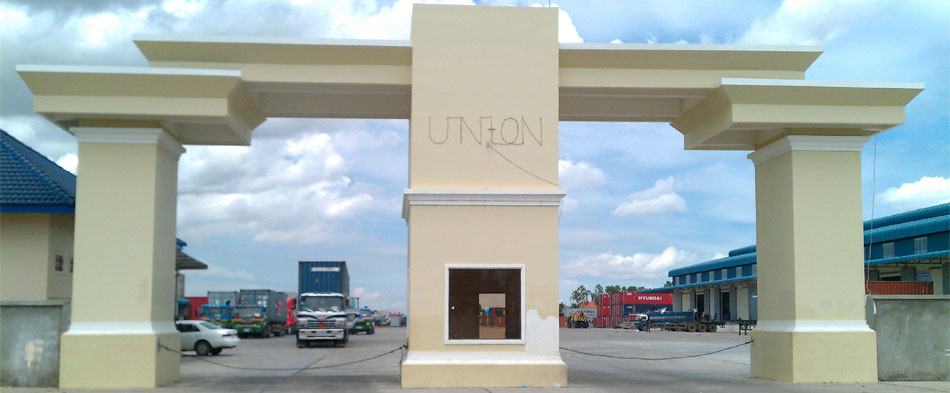 UNION DRY PORT offers a range of services that allow our customers a trouble free experience. We pride ourselves on providing the best service in the following areas:

Bonded warehouse

Container Yard facilities for duty unpaid cargo

Customs Clearance and Documentation

Dedicated Container Freight Station

Dedicated Container Depot for MT storage

Repair & Maintenance facilities

LCL Import & Export

Long-term warehouse rental

Warehouse management

Open Storage Yard

Container Trucking

Container Reefer Points

Cargo Pick-up Trucking

Cargo Consolidation

Barcode Scanning

Sorting & Packing

Garment On Hanger