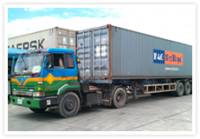 UNION Transport Co., Ltd. was established in 1993 to handle transport, Customs Formalities and Warehouse operation. We are committed to providing quality transportation services in a safe and cost effective manner around in the kingdom of Cambodia.
We have traveled many miles for many companies, establishing a strong reputation for on-time, reliable delivery.
We have worked hard to build an organization that remains miles ahead of the competition. We have done this by providing strong, consistent performance, by working with and recruiting the best people, and by staying ahead of our competition.
UNION Transport was founded on the principle that growth and success would happen through honesty, integrity and a never-ending commitment to customer satisfaction. Today, after years of steady growth, our customer pledge remains the same: to do whatever it takes to provide our clients with superior service that is guided by the highest ethical standards with GPS system to monitor our truck moving around Cambodia.
Due to Market Required, UNION Transport Has expanded our service such as:
Transit shipment ( Gross border transport )

From HCM Vietnam to Phnom Penh Cambodia

From Bangkok Thailand to Phnom Penh Cambodia

From People Republic of LAO to Phnom Penh Cambodia

Land Air shipment from Phnom Penh to Ho Chi Minh

Land Air shipment from Phnom Penh to Bangkok