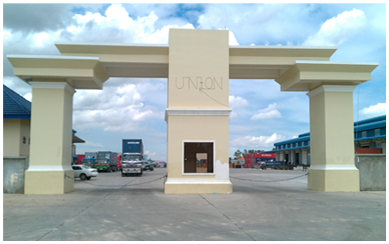 Welcome to


UNION GROUP
The UNION Group is a Cambodian owned and diversified group of companies operating in the Kingdom of Cambodia From its humble beginnings in 1993 as transportation company with only 5 trucks to move around in the country, Due to the market required, the Group has expanded its businesses into key economic sectors of the country, which includes inland dry port and warehousing, shipping, transportation and logistics, mixed concrete based in Cambodia.
As an early and active participant in the development of the nation, UNION Group has established an enviable track record for reliability and dependability in the services and products that it serves and provides to its multitude of business partners and customers, which includes multinationals EMBASSY and NGOs. The dynamism and pragmatism of the Group is best testified by its pioneering spirit in leading the successful private sector development of the transportation and inland dry port ( ICD ) in the country.
The corporate success of the Group is largely to attributable to its visionary and committed leadership, supported by a pool of dedicated and professional team, in delivering and meeting the expectations of its customers and other stakeholders such as business associates, investors, financiers, local authorities and the Government. The Group has always been guided by a win-win philosophy in its business dealings to achieve the mutual interests and objectives of all parties. Even as it undertakes its corporate endeavors with vigor and enthusiasm, its strives to maintain its corporate social responsibility by participation in charitable activities, contribution of basic necessities to the poor, donation of rural infrastructure and adherence to environmental safeguards standards.
UNION Group is well-positioned to grow its existing businesses and to tap on new business opportunities in the steady growing economy of Cambodia and surrounding regions. With its excellent understanding of the market and business networking, backed by credibility and integrity built over time, it is poised for greater growth and expansion in tandem with the development potential of the country and the neighboring nations of Cambodia.